Date/Time
Event
10/25/2017
8:00 am - 12:00 pm
Monument Volunteer Work Days
Ironwood Forest National Monument, Marana AZ

11/01/2017
8:00 am - 12:00 pm
Monument Volunteer Work Days
Ironwood Forest National Monument, Marana AZ

11/04/2017
All Day
Annual Hike the Monument Day
Marana Regional Airport, Marana


There will be a variety of hikes and nature walks. All hikers will assemble at the Marana Regional Airport, meet their hike leaders, and head off to the hike trailheads from there.

11/08/2017
8:00 am - 12:00 pm
Monument Volunteer Work Days
Ironwood Forest National Monument, Marana AZ

11/15/2017
8:00 am - 12:00 pm
Monument Volunteer Work Days
Ironwood Forest National Monument, Marana AZ

11/22/2017
8:00 am - 12:00 pm
Monument Volunteer Work Days
Ironwood Forest National Monument, Marana AZ

12/02/2017
8:00 am - 12:00 pm
Annual Waterman Restoration Site Work Day
Ironwood Forest National Monument, Marana AZ


This annual event is being held at the Restoration Site at Waterman Mountain. John Scheuring and the Arizona Native Plant Society lead the restoration effort.

12/09/2017
8:00 am - 12:00 pm
National Public Lands Day
Ironwood Forest National Monument, Marana AZ


We will be working with BLM on an expansion of the Group Camping Site. NPLD is a national event the occurs the last Saturday in September each year. Many organizations observe it at a different time to suit their particular circumstances. Here in southern Arizona it's hot in September, so BLM and FIF are opting […]

01/03/2018
8:00 am - 12:00 pm
Monument Volunteer Work Days
Ironwood Forest National Monument, Marana AZ

01/14/2018
8:00 am - 12:00 pm
Monument Volunteer Work Days
Ironwood Forest National Monument, Marana AZ

1
2
>
As you can see from the following past and planned events, the Friends of Ironwood Forest continue to be engaged in exciting, important activities. We hope you'll join us for future events.
MEET THE MONUMENT – March 18, 2017

Saturday, March 18th will be the 6th Meet the Monument event. (View the event flyer.) Meet the Monument will be held from 8 am to 2 pm, at the base of Ragged Top peak. (View the map here.)
This year former and current faculty members from the University of Arizona and other local experts will cover the botany/fauna/birds/insects etc. of the Monument, then lead short walkabouts into the desert to illustrate what they have presented. A National Geographic photographer will lead two hikes and provide instruction on how to photograph the desert. This event will also feature an authority on the historic Titan Missile program, and its interaction with the area within the Monument. Hike leaders from the UofA Ramblers and two local Marana Hiking Clubs (coupled with naturalists to point out local plants of interest) will lead 8k and 5k hikes into the desert. (View the schedule here.)
The nature and photo walks will be held on gentle, flat terrain – suitable for almost every adventurer. The longer 8K hike will be for those with the experience and gear for The Monument's more challenging desert terrain.
All activities take place outside – please wear clothing and footwear appropriate for the day's weather and activities, and bring drinking water and a lunch. (View the full event description here.)
For more information about Meet the Monument contact Jim Avramis at [email protected]
MEET THE MONUMENT – November 2015
Our 5th annual Meet the Monument on Nov. 14, 2015 was a great success, attracting more than 200 people. Attendees enjoyed hikes, walkabouts and speakers throughout the day and had the opportunity to learn from experts about Ironwood Forest's incredible biological and cultural resources.
We thank all who came out to become acquainted with the Monument, and hope that your visit has inspired you to become even more involved with our mission.
Thanks go to all of the speakers, hike leaders, volunteer workers, and sponsors who contributed to the success of this event.
MONTHLY VOLUNTEER WORK DAYS – First 2 Wednesdays Each Month
IFNM Volunteer work days are planned through April 2016 on the 1st and 2nd Wednesday's of each month. After April, we go into summer hibernation, and then begin the projects again in October. In these projects we assist the BLM in varied tasks such as restoration, trail improvement, and sign installation.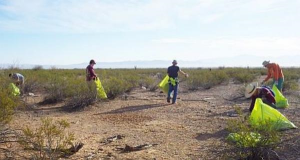 The volunteer workdays in February and March were very productive. In addition to providing the volunteers with some exercise out in beautiful scenery, we were able to clear much trash from a couple areas, create more vertical mulch "fencing", and perform some drainage diversion on one of the steep old mining "roads". The two trash day efforts were in the vicinity of the missile site near Waterman Mountain on February 4th and along Pump Station Road on March 2nd.
The most notable bonus when gathering trash near Waterman was seeing a nice population of the rare and endangered Nichol's Turk's Head Cactus. Royce Ballinger considers these small cacti to be an iconic plant in the Ironwood Monument.

The biggest haul of trash was East of Pump Station where the crews gathered over 1400 pounds of non-biodegradable waste. The piece de resistance was an old refrigerator, complete with required bullet holes.


The vertical mulching effort was to help block off unwanted traffic patterns into the desert. The drainage diversion was done the redirect the erosion on a steep slope leading up to Waterman Saddle. This was accomplished using the on-site rocks and gravel.
The volunteer efforts are greatly appreciated. It is a pleasure to work with the BLM on these projects and see what can be accomplished to help restore and protect this natural treasure. Special thanks go to Gary Borax for getting the word out to our volunteers.
In order to participate in these or other BLM work projects, you need to have a FY 2016 "Volunteer Service Agreement – Natural & Cultural Resources" Form completed and on file with BLM prior to the work day. To print the Form and to view the mailing instructions, click on this link: http://ironwoodforest.org/?attachment_id=1251 . For additional details, to sign up, and to get on the mailing list for future announcements of these projects, please contact Gary Borax at [email protected]
BEAT BACK BUFFELGRASS DAY – Feb. 20, 2016
Beat Back Buffelgrass Day – 02/20/2016
Buffelgrass is an invasive plant that continues to be a critical threat in the Monument, as well as one of the most pressing environmental issues in the southern Arizona. Buffelgrass crowds out native plants, burns at higher temperatures than native plants, and converts fire-resistant desert to flammable grassland. It is particularly threatening to saguaro cactus. Beat Back Buffelgrass Day is a community-wide annual event in the Tucson area, sponsored by the Southern Arizona Buffelgrass Coordination Center (SABCC). Information on buffelgrass and methods of controlling it can be found on the SABCC website at http://www.buffelgrass.org/content/frequently-asked-questions#Q8 .
This year four members of the Friends of Ironwood Forest assisted five staff from BLM in buffelgrass eradication at Avra Hill in the Monument. This relatively small group was able to thoroughly cover between 110 to 120 acres of hillside in about 3 hours by hand spraying with glyphosate. This is one of the only herbicides that can be used to effectively kill buffelgrass while minimizing effects on native plants. Compared to aerial spraying, hand spraying provides pinpoint accuracy that can concentrate on newly greening invasives, as pictured here, growing between rocks and native plants.
Compared to digging, hand spraying also does not disturb rock formations like these, and does not result in removing bio-mass from the land.
Here's a part of the operation involved in preparation and refilling.
In addition to spraying, two members of the team recorded the geolocation of buffelgrass concentrations.
The Friends of Ironwood Forest are active in Buffelgrass eradication, not only on Beat Back Buffelgrass Day, but at any time that conditions are favorable.
MARANA FOUNDERS DAY – Saturday, March 5, 2016
MARANA FOUNDERS DAY – March 5, 2016
On Saturday, March 5 the Friends of Ironwood Forest had booth at Marana's 38th annual Founders Day Festival, sponsored by the Marana Heritage Conservancy. Among other things, the mission of the Marana Heritage Conservancy is to discover and preserve cultural and natural treasures. For more information see the Marana Heritage Conservancy's website at: http://www.maranaheritage.org
The festival, at Ora Mae Harn park, included a parade, exhibits, food, and entertainment.
There were thousands in attendance, and hundreds stopped by our booth. It was surprising how many people, had never heard of the Ironwood Forest National Monument, its location in their backyard, or that it even existed. Our booth helped to acquaint them with the Monument, which might now be considered one of Marana's natural treasures. We had books, pamphlets, a big horn sheep skull, Junior Ranger books & badges.

The Junior Ranger books and Junior Ranger badges were a big hit – we handed out close to a hundred of them.

The children were also fascinated by the skull.
HIKE THE MONUMENT – Saturday, March 12, 2016
HIKE THE MONUMENT
On Saturday, March 12th, about 38 hikers gathered to explore our back yard treasure. They were almost evenly divided between the following three hikes.
1. Walcott Saddle Adventure Hike – a moderate to difficult hike of a bit over 3 miles that circled Walcott Peak. It was led by Gary Borax. Here they are, ready to go (or maybe just got back?).
2. Waterman Mountains Elephant Trees botanical hike – a moderate/steep hike of about 3 miles that followed an old mining road in the Waterman Mountains to view botanical wonders and the unique geology of the mountains. It was led by Drew Milsom.
3. Nature Hike at base of Ragged Top –an easy paced 3 mile hike along the northern bajada of Ragged Top, led by Ries Lindley. Here they're admiring the work of artists who were here long before us.
Future Events – 2016 and Beyond
Later in 2016 and for many years to come, the Ironwood Forest National Monument should provide plenty of challenging, fun things to keep us occupied.
The monthly work projects will go into summer dormancy after the two scheduled in April, and will resume In October, 2016.
We will again join others from across the nation working on conservation projects on National Public Lands Day, September 24, 2016.
One big change deals with Meet the Monument and Hike the Monument. We are going to switch the dates of these two events. This will avoid hiking during the bighorn lambing season, and will allow some of the hikes to go to higher altitudes. It may also provide weather more suitable for each of the events. So Hike the Monument will be held in November, 2016, and Meet the Monument will be held in the early spring of 2017.
We again plan to take part in the annual Beat Back Buffelgrass Day in early 2017.
Visit this site frequently to keep up to date and get the latest details on these exciting events.
The "Ironwood Event"
Presentation to the Tucson Chapter – Arizona Native Plant Society-Tucson, Ariz. – at their monthly meeting on 08 February 2017 at 7:00 p.m. to be held in the City of Tucson – Ward 6 Bldg. at 3202 E. 1st St.( that's on the SE corner of E. 1st St. & N.Anderson & 1 block S. of Speedway Blvd. & 1 block E. of Country Club Rd.: behind(S.of) the "Walgreens" on Speedway! ).
Program announcement:" A five-day incursion of tropical moisture in September of 2011 achieved an indelible mark in the Tucson areas history of weather events that included a record "fudging" downpour at T.I.A., a giant "haboob", AND a storm-cell that spawned a series of "microbursts" that left a path of destruction of property and Sonoran Desert vegetation across Pinal & Pima Cos. in SE Arizona. Bill Peachey will present a program that describes and discusses the implications of the "Ironwood Event" of 09 September 2011: one of the microbursts that damaged or felled thousands of saguaros within a 5.7 sq. mi. area of eastern Ironwood Forest National Monument. "

Powered by Events Manager