Stay tuned for upcoming events!
The impact of the COVID 19 virus outbreak continues to affect all of us in many ways. As for our IFNM volunteer efforts we are canceling our April work days which will end our scheduled GFY20 support for the BLM. We will pick up again in October with a schedule for GFY21.
Go to our Maps and Directions page to see more detailed maps to Ironwood Forest National Monument, Ragged Top and the Waterman Restoration site.
Volunteer Work Days
In order to participate in these or other BLM work projects, you need to have a "Volunteer Service Agreement (VSA)" form completed and on file with BLM prior to the work day. (Click here for the form.) You can't participate unless your VSA is approved.
Email the completed form to Robert Walter at r[email protected] or mail it to:
Bureau of Land Management – Tucson Field Office
Attn: Volunteer Service Agreement
3201 E Universal Way
Tucson AZ 85756
Hike the Monument (HTM) 2019
The Friends of Ironwood Forest had just over 60 hikers come out and enjoy the treasures of the IFNM on Saturday, November the 9, 2019. The weather was spectacular and three hikes covered many of the special attributes of the Monument. The hike to Cocoraque is always special due to the spiritual and cultural importance of the petroglyphs and other archeological artifacts. The hike was lead by doctoral candidate Kirk Astroth and everyone was thrilled to see the early first people's habitation. The hike to the southern face of Waterman Mountain included numerous rare and endangered species, explained by botanist and geologist, Bill Peachey. Everyone also kept an eye out for the Desert Bighorn Sheep that are indigenous to the IFNM. The educational nature walk was lead by Reis Linley and Bill Thornton around the major Restoration Site that is steadily returning a former rock processing area to natural vegetation. We appreciate the hikers that venture out each year for this HTM event. Getting to know the Ironwood Forest up close is the very best way to encourage its future preservation.
IFNM Volunteer Work Days are planned each month. After April, we go into summer hibernation, and then begin the projects again in October. In these projects we assist the BLM in varied tasks such as restoration, trail improvement, and sign installation.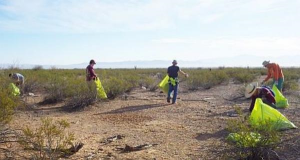 The volunteer workdays are very productive. In addition to providing the volunteers with some exercise out in beautiful scenery
The volunteer efforts are greatly appreciated. It is a pleasure to work with the BLM on these projects and see what can be accomplished to help restore and protect this natural treasure.
For additional details, to sign up, and to get on the mailing list for future announcements of these projects, please email [email protected]
Powered by Events Manager