Date/Time
Event
10/19/2017
6:00 pm - 8:00 pm
Patagonia's Give A Little, Gift a Lot with Summit Hut
Summit Hut, Tucson


Friends of Ironwood Forest is one of five environment-oriented nonprofit organizations participating in Patagonia's Give A Little, Gift a Lot with Summit Hut at their 5251 E. Speedway location on Oct. 19th. from 6-8pm. Complimentary beer, wine and snacks will be provided to customers as they interact and learn more about each organization. Patagonia is working with each […]

10/25/2017
7:00 am - 2:00 pm
Ironwood Forest Work Days
Ironwood Forest National Monument, Marana AZ


Contact: Jim Avramis, 334-9193, [email protected] Meet Dove Mountain Park: 7:00am, Approx Return: 2pm Meet at Marana Regional Airport: 7:30am, Approx Return: 12:30pm Work is planned the Silverbell group site. The project to expand this site is approved. Today's work is to assess, layout and stake the project. We will also do some vegetation clearing and conduct plant counts. We also need […]

11/04/2017
All Day
Annual Hike the Monument Day
Marana Regional Airport, Marana


The Friends of Ironwood Forest invites you to join us for Hike the Monument (HTM) on Saturday, November 4th. Choose from hikes and activities to explore and experience the wonders of the Ironwood Forest National Monument. To sign up for a hike email [email protected] or leave a message at 520-628-2092. This event is conducted in partnership […]

11/08/2017
8:00 am - 12:00 pm
Ironwood Forest Work Days
Ironwood Forest National Monument, Marana AZ

11/18/2017
3:00 pm - 7:00 pm
Rally and Fundraiser at Dragoon Brewery
Dragoon Brewery Co., Tucson


Save the Date! Friends of Ironwood Forest is holding a rally and fundraiser for Ironwood Forest on Saturday, November 18, from 3-7pm at Dragoon Brewing Co., 1859 West Grant Rd., and you're invited! Please join us at Dragoon Brewery on November 18, have a beer for a bighorn, and get the latest scoop on Ironwood […]

11/22/2017
8:00 am - 12:00 pm
Ironwood Forest Work Days
Ironwood Forest National Monument, Marana AZ

12/02/2017
8:00 am - 12:00 pm
Annual Waterman Restoration Site Work Day
Ironwood Forest National Monument, Marana AZ


This annual event is being held at the Restoration Site at Waterman Mountain. John Scheuring and the Arizona Native Plant Society lead the restoration effort.

12/09/2017
8:00 am - 12:00 pm
National Public Lands Day
Ironwood Forest National Monument, Marana AZ


We will be working with BLM on an expansion of the Group Camping Site. NPLD is a national event the occurs the last Saturday in September each year. Many organizations observe it at a different time to suit their particular circumstances. Here in southern Arizona it's hot in September, so BLM and FIF are opting […]

01/14/2018
8:00 am - 12:00 pm
Ironwood Forest Work Days
Ironwood Forest National Monument, Marana AZ

01/24/2018
8:00 am - 12:00 pm
Ironwood Forest Work Days
Ironwood Forest National Monument, Marana AZ

1
2
>
As you can see from the following past and planned events, the Friends of Ironwood Forest continue to be engaged in exciting, important activities. We hope you'll join us for future events.
Monthly Volunteer Work Days
IFNM Volunteer work days are planned each month. After April, we go into summer hibernation, and then begin the projects again in October. In these projects we assist the BLM in varied tasks such as restoration, trail improvement, and sign installation.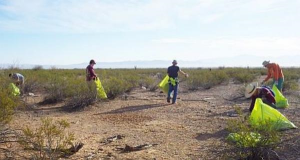 The volunteer workdays are very productive. In addition to providing the volunteers with some exercise out in beautiful scenery, we are able to clear much trash from a couple areas, create more vertical mulch "fencing", and perform some drainage diversion on one of the steep old mining "roads". The two trash day efforts were in the vicinity of the missile site near Waterman Mountain on February 4th and along Pump Station Road on March 2nd.
The most notable bonus when gathering trash near Waterman was seeing a nice population of the rare and endangered Nichol's Turk's Head Cactus. Royce Ballinger considers these small cacti to be an iconic plant in the Ironwood Monument.

The biggest haul of trash was East of Pump Station where the crews gathered over 1400 pounds of non-biodegradable waste. The piece de resistance was an old refrigerator, complete with required bullet holes.


The vertical mulching effort was to help block off unwanted traffic patterns into the desert. The drainage diversion was done the redirect the erosion on a steep slope leading up to Waterman Saddle. This was accomplished using the on-site rocks and gravel.
The volunteer efforts are greatly appreciated. It is a pleasure to work with the BLM on these projects and see what can be accomplished to help restore and protect this natural treasure. Special thanks go to Gary Borax for getting the word out to our volunteers.
In order to participate in these or other BLM work projects, you need to have a FY 2016 "Volunteer Service Agreement – Natural & Cultural Resources" Form completed and on file with BLM prior to the work day. To print the Form and to view the mailing instructions, click on this link: http://ironwoodforest.org/?attachment_id=1251 . For additional details, to sign up, and to get on the mailing list for future announcements of these projects, please contact Gary Borax at [email protected]
Powered by Events Manager