Date/Time
Event
06/22/2019
10:15 am - 11:00 am
Scorpions of the Tucson Mountains and Avra Valley
Saguaro National Park West, Tucson


At Saguaro National Park West Visitor's Center, Lawrence L.C. Jones will share information on scorpions of the area, including the results of his three years of study. Also, he will discuss precautions and what to do if stung. No sign-up or registration is necessary.

Field Trip: Registration and sign-up is necessary through Saguaro National Park West at 520-733-5158. Space may be limited. Meet at the Visitor's Center at 8:30pm. The field trip will end at approximately 11pm. The focus will be on scorpions, but the group will also look for native snakes. Bring a flashlight or headlamp, black light (if you have one), close-focus binoculars, boots, water, camera and cell phone.

10/19/2019
4:00 pm - 8:00 pm
3rd Annual Have a Beer for a Bighorn
Dragoon Brewery Co., Tucson


Save the Date for our Third Annual Have a Beer for a Bighorn at Dragoon Brewing Co.

Saturday, October 19
Dragoon Brewing Company, 1859 W. Grant Rd.

Join us to learn more about our ongoing efforts to protect our natural heritage. There will be food trucks, brewery tours, snacks, a slideshow and great beer from Dragoon Brewing Company.
Go to our Maps and Directions page to see more detailed maps to Ironwood Forest National Monument, Ragged Top and the Waterman Restoration site.
As you can see from the following past and planned events, the Friends of Ironwood Forest continue to be engaged in exciting, important activities. We hope you'll join us for future events.
New Kiosk for the IFNM

We had a terrific Volunteer Workday this past Wednesday, combining an old activity (trash pickup) with a true milestone. Trash pickup needs little explanation, especially if you've ever done it. The milestone was erecting the first kiosk on the Monument. As a pristine desert, the IFNM has no amenities and almost no signage. The new kiosk, at the Agua Blanka Portal, West on Mile Wide Road, is the first of several kiosks to be installed at various IFNM portals. All of the volunteers enjoyed seeing this accomplished.
Meet the Monument 2019
Meet the Monument 2019 came together on Saturday, March 16th under a striking sky, and surrounded by a stunning display of wildflowers. The attendance numbers by our guests was very impressive, and the offerings by our presenters exceeded expectations. It was a fantastic day!
The Friends of Ironwood Forest would like to thank the dozens of people that made this happen, from our speakers, info booth providers, walkabout staff, volunteers, FIF board members, and vendors – it takes a lot of hands to make this event work – bravo!
But, bottom line, we need to thank you those that made the drive out to enjoy this fabulous landscape, set aside as a National Monument. These lands are OUR lands. Only through the focused effort of constant education, and prudent stewardship, will they remain so. You are a part of this process as a Friends of Ironwood Forest supporter.
Volunteer Work Days
In order to participate in these or other BLM work projects, you need to have a "Volunteer Service Agreement" form completed and on file with BLM prior to the work day. (Click here for the form.) Email the completed form to both r[email protected] .
Wednesday, March 21 – The goal today was to record the status of the Nickels Turks Head cactus, a federally listed endangered plant, on two sample plots within the IFNM that were first inventoried in 1980. The original survey work was done by BLM shortly after the Turks Head was listed as endangered, and occurred about 20 years prior to this land being proclaimed as part of the Ironwood Forest National Monument.
This 30-plus year old survey data is valuable information and is the basis determining how the plant has done in the intervening period. We first looked for the boundary markers from the original survey. The plots are 50X50 meter squares. Once the perimeter was found, the plot is then sectioned into 10-meter strips. The volunteers and BLM staff then begins a careful walk through looking for any sign of the cactus, dead or alive.
The original survey left tags by each cactus they found. So, in some cases, the tag may be the only thing left. For each cactus or tag found, we recorded the tag number, the GPS location, whether the cactus was present, dead or alive, its size, and whether or not there were any pups.
With our 6-person teams, the process took about 4 hours once we arrived at the respective sites. It will be a while back at the office for BLM to carefully reconcile the new data with the original survey findings. We noted a range of other plant life, including a forest of very green ocotillos in full bloom. This was a good day!
Friday and Saturday, March 16 and 17 – Meet the Monument. Thank you to the many volunteers that helped this event conducted by the Friends of Ironwood Forest! The set up on the 16th went quickly and smoothly and the MTM event on the 17th was AWESOME thanks to the time and effort you so generously provided! More details and pictures of the event are forthcoming.
Tuesday,March 13 – We joined John Scheuring, BLM and other buffelgrass (BG) assassins, 10 total participants, to spray BG in an extensive 10 acre area on the northeast flank of Ragged Top. Since 2010 this area is now reduced from large plants in thick patches to isolated patches with smaller plants and plants/seedlings hiding under trees, bushes and cholla. With 10 folks spraying we were able to cover the entire area in one trip. This area is improving dramatically!
IFNM Volunteer Work Days are planned each month. After April, we go into summer hibernation, and then begin the projects again in October. In these projects we assist the BLM in varied tasks such as restoration, trail improvement, and sign installation.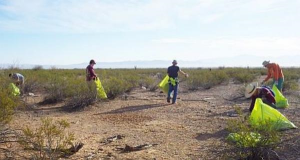 The volunteer workdays are very productive. In addition to providing the volunteers with some exercise out in beautiful scenery, we are able to clear much trash from a couple areas, create more vertical mulch "fencing", and perform some drainage diversion on one of the steep old mining "roads". The two trash day efforts were in the vicinity of the missile site near Waterman Mountain on February 4th and along Pump Station Road on March 2nd.
The most notable bonus when gathering trash near Waterman was seeing a nice population of the rare and endangered Nichol's Turk's Head Cactus. Royce Ballinger considers these small cacti to be an iconic plant in the Ironwood Monument.

The biggest haul of trash was East of Pump Station where the crews gathered over 1400 pounds of non-biodegradable waste. The piece de resistance was an old refrigerator, complete with required bullet holes.
The vertical mulching effort was to help block off unwanted traffic patterns into the desert. The drainage diversion was done the redirect the erosion on a steep slope leading up to Waterman Saddle. This was accomplished using the on-site rocks and gravel.
The volunteer efforts are greatly appreciated. It is a pleasure to work with the BLM on these projects and see what can be accomplished to help restore and protect this natural treasure.
For additional details, to sign up, and to get on the mailing list for future announcements of these projects, please email [email protected]
Powered by Events Manager