1
2
>
Go to our Maps and Directions page to see more detailed maps to Ironwood Forest National Monument, Ragged Top and the Waterman Restoration site.
Volunteer Work Days
In order to participate in these or other BLM work projects, you need to have a "Volunteer Service Agreement (VSA)" form completed and on file with BLM prior to the work day. (Click here for the form.) You can't participate unless your VSA is approved.
Email the completed form to Robert Walter at r[email protected] or mail it to:
Bureau of Land Management – Tucson Field Office
Attn: Volunteer Service Agreement
3201 E Universal Way
Tucson AZ 85756
IFNM Volunteer Work Days are planned each month. After April, we go into summer hibernation, and then begin the projects again in October. In these projects we assist the BLM in varied tasks such as restoration, trail improvement, and sign installation.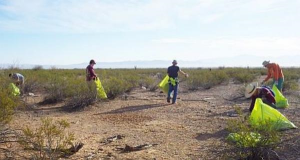 The volunteer workdays are very productive. In addition to providing the volunteers with some exercise out in beautiful scenery
The volunteer efforts are greatly appreciated. It is a pleasure to work with the BLM on these projects and see what can be accomplished to help restore and protect this natural treasure.
For additional details, to sign up, and to get on the mailing list for future announcements of these projects, please email [email protected]
Powered by Events Manager